SOLUTION OVERVIEW
Achieve Sustainable Capacity & Resource
Utilization Plans
ThroughPut's Capacity Planning solution helps accurately evaluate the actual capacity against realized demand, scheduled production load, inventory build-up and lost sales opportunities. It also helps assess the ability to meet future demand, highlight risks and propose mitigation strategies and propose the priority to schedule limited resources against the product-mix.
Evaluate capacity prudently
Meet future demand accurately

Prioritize product-mix uniformly
The ThroughPut Difference
10x Times Higher Productivity and Utilization Efficiency
INDEPENDENT IMPLEMENTATION
3 Months
ThroughPut Total Time-to-Value.

12 Months
Independent Implementation Total Time-to-Value.
Slash down throughput losses by maximizing real-time demand.
Traditional demand forecasting linked to a burden on total output with risks of meeting actual demand.
Ensure resource utilization is always under a set capacity limit.
Disproportionate resource utilization due to ambiguous capacity planning.
Reduce operations expenses that tap into the purchase of extra capacity.
Fluctuating operations expenses that may rise due to sudden capacity demands which are not planned for.
Choose ThroughPut
Richard Smith
SVP of IT | James Hardie Building Products
Game changer as we think about Supply Chain. ThroughPut's ability to navigate to get to the decision maker and show impact with data-backed insights for higher profits and free cash flow is second to none.

Optimal Capacity Planning
for High Asset Performance
Asset Performance Management
Boost Asset Performance Management Across Capacity Levels
| | |
| --- | --- |
| Challenge | Gain end-to-end supply chains operations visibility and insights across multiple plants. |
| Solution | Accurately estimate the capacity of your asset load with streamlined production management and plan for scheduled or unscheduled maintenance. |
~40%
Increase in asset performance
~25%
Reduction in production variance
Experience Accurate Forecasting
Inventory Management
Stay Updated Always On Real-Time Inventory Levels
| | |
| --- | --- |
| Challenge | Fluctuating demand dynamics impacting visibility on inventory levels. |
| Solution | Measure, track and trace inventory with recommendations on demand with deep insights on mid term and near term range stock levels. |
10x
Increase in inventory turnover
Experience Accurate Forecasting
Product Allocation
Optimize Product Allocation Across Work Shifts
| | |
| --- | --- |
| Challenge | Uncertain output issues due to product variations. |
| Solution | Automatically pick the best machines for each product while keeping the load on each machine to the optimal levels. |
~27%
Boost in product allocation
54%
Increase in output efficiencies
Experience Accurate Forecasting
CASE STUDY
Elimination of Unplanned Outages Helps Global Food Manufacturer Boost use Capacity Utilization by $0.5 million Per Week
$0.5M
Per week boost in capacity utilization
AI-Powered Capacity Planning
Software Features
Accelerated Throughput With Minimum Operations Costs
Control throughput losses by maximizing the real-time demand.
Keep the resource utilization under optimum levels.
Minimize operations expenses that tap into the purchase of extra capacity.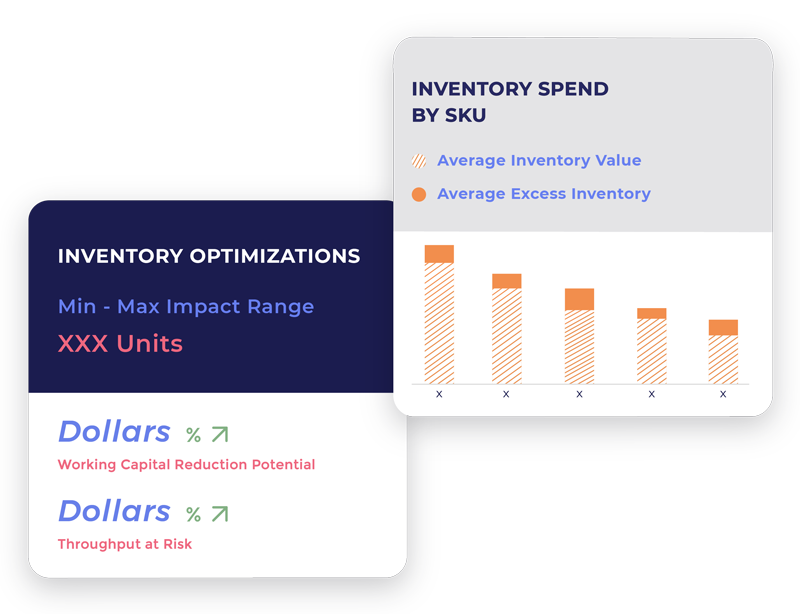 Minimize Your Cost
Deploy Accurate Real-Time Data For Future Capacity Plans
Replay the past with historical data analysis to plan the near future better.
Assist capacity planners, demand planners, and demand managers leverage capacity plans to the fullest amidst challenging market scenarios.
Feed on-ground capacity plans with timely strategic insights.
Start Accurate Forecasting
Orchestrate A Risk Management Strategy
Plan individual risk response to help boost facility operations.
Leverage scenario planning to overcome uncertainty with a higher planning cadence included in the analysis.
Perform real-time analysis and visualizations to identify out of control behavior and perform root cause analysis.
Create Sound Strategy