Food and Beverage (F&B) companies operate under unique market conditions, such as high market volatility. The industry faces losses worth billions due to excess inventory, heavy discounting, and unavailability of stock.
Seasonal and variable demands had already placed the F&B industry on shaky grounds, but the pandemic amplified this inconsistency. Supply plans are especially hard to construct due to seasonal constraints and short shelf lives of products.
Sales and Operations Planning (S&OP) is the catalyst that helps businesses optimize their sales, marketing, supply chain, and financing.
Covid-19 caused a cataclysmic shift in the functioning of the F&B industry from the traditional S&OP methods.
Global food trends in the pandemic saw some interesting variations from the norm. An aggregate of 56% of the people using F&B apps ordered food through online delivery services, creating an urgent requirement for system revamps. This is a clear indicator of the need for newer systems of executing S&OP in the F&B industry post the pandemic.
Can you imagine the world going back to what it was before Covid-19? Research shows leisure and restaurants as two of the five core industries deeply impacted by the pandemic. With the F&B industry as a primary feeder to the operations of these industries, it would be unwise not to factor in their shifting priorities during the post-pandemic restructuring.
To make this monumental task easier, let us take you through an actionable plan to future-proof your F&B company's S&OP.
How S&OP can generate profits and enhance visibility?
The F&B industry is primarily driven by the need for higher sales and profitability. Effective S&OP can significantly enhance all the steps that lead to higher profit outcomes.
Higher profitability and revenue predictability
S&OP helps to align demand with supply and avoid metrics of losses that are presented through insufficient supplies or excessive inventories. It also determines achievable benchmarks, creating new profit targets ensuring fulfillment of previous ones.
S&OP can enhance demand sensing, leading to tapping seasonal and erratic markets. This also adds to the profitability indices. It is an integrated process that allows almost every area of a business to function more effectively, making an F&B company's operations more streamlined and cost-effective.
Greater visibility
S&OP helps outline each aspect of the food supply chain, creating a database of bottlenecks. This generates an X-ray overview of the supply chain performance, greatly enhancing visibility.
Demand can also be forecasted accurately through sophisticated data models and analytics. Hence, a company can get a model encompassing supply operations and expected demands and leverage it for better growth.
Better inventory management
S&OP can help businesses plan their inventory more efficiently by forecasting demand and supply trends. The supply and demand volatility in the F&B industries can be decreased by efficient S&OP, leading to better inventory management and, eventually, higher profits.
Conclusively, S&OP processes can help an F&B company stay ahead of its competitors by driving greater margins for every sale while streamlining business operations.
Why should you move away from conventional methods while implementing S&OP?
Short shelf lives, redundant inventories, and seasonal deterrents are market conditions that plague the F&B market. This deems traditional S&OP techniques ineffective.
Artificial intelligence is adept at automating cumbersome processes. It not only automates but also analyses the processes being automated and optimizes them for higher efficiency. With the assistance of Artificial Intelligence (AI), hindrances such as high volatility and redundant inventories can be resolved without excessive human intervention. AI provides effective solutions to the most stubborn S&OP implementation hiccups.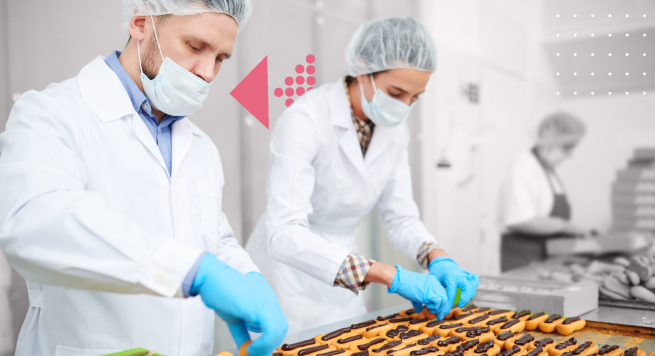 Some of the challenges strong AI-driven S&OP can address are:
Lack of data
F&B companies spend a lot of time and resources in gathering and analyzing market data. However, the data often does not correspond to the market conditions and is rendered futile.
Even when the data is accurate, the implications of the data are not well understood despite having invested both financial and human resources in obtaining it. In such a scenario, the company faces the same amount of inefficiencies that it would have faced even without having collected market data.
The data collection analytics can be driven independently by AI systems. When both data collection and analytics are mutually supportive, they deliver impactful data-driven insights.
Limited planning ability
Since the data is analyzed manually, companies can only plan and evaluate alternate market scenarios. The market is an ever-changing beast, and it needs sophisticated planning abilities to be able to predict customer demand & market behavior.
Foresight stems from a thorough analysis of the market conditions. Planning stems from the recognition of market volatility. AI can perform both these operations without purview and deliver useful results.
Misalignment with financial goals
The goal of traditional methods of S&OP is to align supply with demand. What it fails to take into consideration are the financial goals of the company itself. Modified S&OP techniques seek to align demand and supply with financial goals to make profit margin forecasting a real-time possibility. These techniques can be modified even more thoroughly with AI-enabled software and machine learning-driven tools.
Inability to test and tweak
Traditional methods of S&OP cannot test the effectiveness of the plans and strategies that have been devised and implemented. Since S&OP is an interdisciplinary endeavor, plans are cross-departmental, and there are no means in place to test how well a strategy has panned out. AI can generate insights from data to run interference at critical junctions – easing out the process and enhancing answerability.
Enhance profits with comprehensive S&OP for the F&B sector
S&OP implementation in the F&B industry currently is a superset of 5 steps:
Step 1 – Generation of Sales Data
Step 2 – Demand Forecasting
Step 3 – Supply Plan Preparation
Step 4 – Report Preparation from supply and demand analytics
Step 5 – Change implementation in response to new data
S&OP can be leveraged to improve profitability and predictability within an organization, and the methods to achieve this are:
Dedicated organization
A dedicated organization within the company with the goal of S&OP implementation is a gold mine. It can go a long way in ensuring that the company achieves efficiencies at scale. Such an organization should be tasked with coordinating among the departments of the company. These could include finance, marketing, sales, and more. This will create a body that is accountable for ensuring improvements in profitability and predictability, both of which are largely based on S&OP principles.
Using key performance indicators (KPIs)
Key Performance Indicators (KPIs) are used to drive every department in an F&B company, and S&OP should follow suit. Adequate metrics should be in place to judge whether the S&OP is delivering results. Like in any other department of the company, KPIs for S&OP executives help ensure that profitability goals are met.
Demand process planning
Traditionally, the demand planning process and supply planning process were executed simultaneously. However, it is more lucrative to execute demand planning instead of supply planning since demand insights precede supply.
Marketing events, awareness campaigns, and targeted advertising can all generate demand surges, which should inform supply operations. S&OP aids in devising reliable demand streams, generating reliable supply logistics.
Leveraging automation
S&OP processes are easy to optimize through automation. The speed at which AI is spanning industries makes AI a viable resource to be leveraged into S&OP for the F&B industry. Tools such as Roadmap Planning, Process Optimization, and Root Cause analysis can help increase profitability by automating several S&OP functions while also delivering greater reliability.
Fluctuating demand patterns and unpredictable consumer behavior had already made it tough to map out effective strategies for the S&OP departments, but the COVID-19 pandemic was the final straw. The pandemic rendered obsolete entire demand and supply chain systems. The oncoming readjustment to the post-pandemic world comes with its own set of challenges like higher unpredictability and rarified F&B trends.
In a post-coronavirus world, companies should incorporate strategies, such as open and predictable markets, diversified sources of supply, targeted and flexible safety nets. They should also include disaster management safeguards in their S&OP processes.
Scaling with AI: S&OP for the F&B industry
Developments in AI mean that companies can automate bigger portions of their business processes. The effectiveness and reliability of such processes can also improve since they are algorithm-driven.
A parallel can be clearly articulated between the described processes and S&OP in F&B companies. Such companies should look towards AI-driven solutions for enduring business operations. AI-driven systems provide resources that can aid optimization in the F&B sector. These are:
Data-crunching: Analyzing extensive sets of data to identify peaks and troughs of productivity, demands, and cash flows.
Problem Identification:

Identifying root causes, bottlenecks

, and lead-generation opportunities.
Effective forecasting: Reducing the

problem of inventory management

and wastage within supply chain networks.
Cost reduction: Elimination of repetitive tasks due to automation.
S&OP planning in the F&B industry is a crossover that is primed to yield abundant dividends. If invested in, AI-powered S&OP can enhance clarity at key junctures of the supply chain management network. AI-driven solutions are the portals to long-lasting, growth-enhancing margins that drive profitability for the F&B sector, especially in the post-pandemic world.
ThroughPut's AI Software-Suite is a supply chain management software that is powered through user data and delivers tangible insights. From bottleneck identification to root cause analysis, ThroughPut's AI Software Suite covers everything when it comes to supply chain management. It's efficient forecasting provides an excellent demand sensing module. This helps you put to rest qualms about demand anticipation while streamlining your cash flows.
To find out more about ThroughPut's AI Software Suite and how it can help your business, schedule a free demo today.